Power Plate Review
Weight Loss Method = Vibration
Ease of Use = Good
Effectiveness = Good
Longevity = Average
Credibility = Scientifically Proven
Cost = From £1,495
Our Rating =

Available From = Click to see best prices
Power Plate is ideal for you if…….
You want an easy way to exercise in the home

You can spare at least 15 minutes, 3 times a week

You wish to get in to shape and increase your sports performance

You want something used by celebrities and athletes worldwide
The Power Plate at a glance:

Suitable for both men and women

Only requires 15 minutes use, 3 times a week

Small enough to fit in almost any room in your house

Provides an all-over body workout without making you breathless

Increases strength, flexibility, and improves blood circulation

Helps you lose weight, tone up, and decrease the appearance of cellulite
Click here to see the cheapest Power Plate stockists
How does Power Plate work?
The range of Power Plate equipment utilise something called Acceleration Training to stimulate the muscles throughout your body. This then leads to the muscles contracting in a similar way to how they do with our top rated slimming gadget Slendertone.
The muscle contractions are activated between 25 and 50 times every second. This means it is a much more intense workout than the toning belts but that is reflected by the much higher price.
The vibrations Power Plate use to exercise your body make it a low impact but high intensity machine. For this reason it is great for you if you suffer from any weak or injured joints.
How is Power Plate different to other slimming gadgets?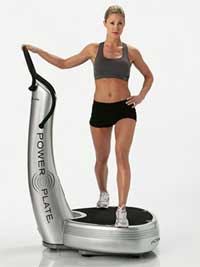 Although Power Plate bears some similarities to toning belts in the fact they contract the muscles to help you tone up and lose weight, the technique it uses is completely unique.
The feeling of a Power Plate is a bit like standing on a very high power washing machine. You feel every vibration going through your body which is quite a strange sensation.
It seems strange to think that you can stand there and get shaken by a machine to lose weight but it is actually very effective.
As far as exercise equipment you will not find many that can match the Power Plate for uniqueness and weight loss benefits.
Click here to find out where you can buy the Power Plate
What are the negatives of the Power Plate?
By far the biggest negative of the Power Plate is the price tag. You are looking at a minimum of around £1,495 for the lowest price model although the more premium models are approaching a whopping £10,000.
However, the old adage of you get what you pay for comes in to play. After all, Power Plate is based on a sound scientific principle which is so strong that many professional athletes swear by the machine.
You also get a wide range of benefits from strengthening your muscles and improving your performance at sports through to weight loss a cellulite reduction.
Another negative is that the vibrations are pretty intense and take some getting used to. I would also not recommend Power Plate to you if you suffer from a heart condition due to the intensity.
A final negative is that it is not the most attractive looking machines and so unless you have a spare room you can use it in, it may look out of place in your living room.
Power Plate My3 – Entry Level Model
The lowest cost Power Plate machine is called the Power Plate My3 and it also happens to be the smallest of the models making it easier to fit in a smaller room.
The vibrations occur in a mostly vertical manner (rise up through your body), and the My3 model comes with 2 settings, high or low intensity, and 2 timing settings (30 or 60 seconds).
It is an entry-level purchase and is recommend if you have not tried Power Plate before as it offers the lowest cash outlay. This version can handle weights of up to 264lbs (120kg).
Best Prices:
Power Plate My5 – Medium Level Model
The middle priced option is the Power Plate My5. This model is slightly larger and more robust than the My3 model and also boasts a more attractive looking design.
The features of the My5 model are virtually the same as the My3, however there are a greater range of vibrations which makes it slightly more effective. It also comes with a remote control , and inbuilt 'Quick-Start' programs.
This model is recommended if you have already tried Power Plate and/or have a slightly bigger budget. This version can handle weights of up to 300lbs (136kg).
Best Prices:
Power Plate Pro5 – Premium Level Model
The Power Plate Pro5 model takes the features and benefits of the My5 model a little further. It is slightly larger than the other models and offers a larger plate which gives you more exposure to the vibrations, thus increasing the effectiveness to the maximum.
This is the same model many professional athletes use as it offers a greater range of frequency of vibrations that the other models and also more timer settings (30, 45, or 60 seconds).
This model is recommended if you already own a Power Plate and are looking to upgrade or if you have a large budget and want the very best model available. The Pro5 can handle weights of up to 400lbs (180kg).
Best Prices:
Power Plate Review Summary
Overall, the Power Plate is a good machine that has some very strong scientific evidence of it's effectiveness.
No doubt it will help you lose weight and tone up providing you can get used to the high intensity vibrations it puts you under.
Unfortunately the price tag is pretty high and may make it out of reach for many people but if you can afford it, the benefits you get go a long way to justifying the outlay.
Filed under: Weight Loss Gadget Reviews
Like this post? Subscribe to my RSS feed and get loads more!