Slendertone Review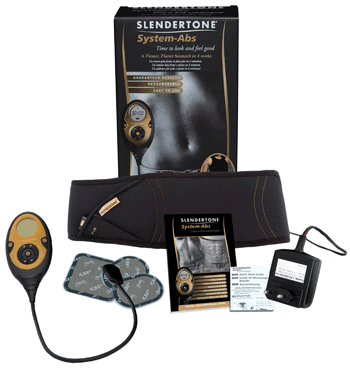 Weight Loss Method = Electronic Toning
Ease of Use = Excellent
Effectiveness = Excellent
Longevity = Average
Credibility = Certified Medical Device
Cost = From £95.99
Our Rating =

Available From = Official website
Slendertone is ideal for you if…….
You want to target specific areas of your body for weight loss


You live a hectic lifestyle but can spare around 30 minutes per day

You want to lose weight and tone up with little physical effort

You can not or do not enjoy regular exercise
Slendertone at a glance:

Multiple systems for different areas of your body

Medically proven Electronic Muscle Stimulation (EMS) technique


Requires no physical effort although quicker results come from a healthier lifestyle

Takes as little as 30 minutes a day


You can tone up while you watch TV

Enhances muscle definition for an all round more athletic body


New controller mechanism allows you to create your perfect system

Get in shape without expensive gym memberships
Click here to choose your Slendertone product and start toning up
How does Slendertone work?
Slendertone is a toning belt that uses Electronic Muscle Stimulation (EMS) to contract your muscles in a targeted area. This leads to a physical workout of your muscles without you having to physically move.
This method of EMS has been used for over 40 years in hospitals and clinics around the World to help rehabilitate and strengthen muscles. It is a safe and effective way to tone up and lose weight.
Slendertone has been developed by Bio-Medical Research company so you know the treatment is not only safe but also very effective.
How it works is simple. You just place the provided pads on the area of your body you wish to target. Then, using the included control unit you can control how much electrical energy is sent to your nerve endings.
Of course, you need to build up to the higher levels slowly to avoid muscle strain. It is completely pain-free providing you do not try and overdo it, all you feel is a slight tingle or a muscle contraction similar to that of when you laugh.
How is Slendertone different to other slimming gadgets?
When I did the Slendertone review I already kind of knew what to expect as I had used one around 5-10 years ago. However, what did impress is how much more comfortable the toning belts are now.
They have really progressed with the technology and now boast a range of belts that can tone up almost every part of your body. This is what makes it so different to most gadgets – the fact you can target specific areas.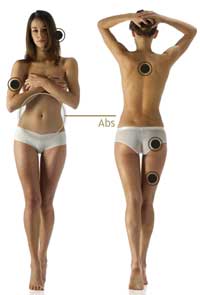 So whether it is your stomach or your 'bingo wings' you want to tone up, Slendertone have a solution.
Parts of your body you can target:
Stomach
Arms
Bottom
Thighs
Back
Face
Yes you read that right, even your face can now be toned up using Slendertone. The idea is that you can give yourself a face-lift because the facial muscles are the only muscles in your body directly linked to your skin (that is why you can make so many different expressions).
Therefore if you strengthen the muscles then you will help to eliminate and avoid sagging facial skin and wrinkles giving you a more youthful look.
Click here to see which areas of your body you can improve with Slendertone

So, the fact that you can target specific problem areas is the main reason Slendertone is unique. Sure, there are other gadgets that can target a single specific area but we have not seen a gadget so flexible you can pick and choose exactly which areas you want to target.
Will Slendertone work for you?
As I say all the time, every single weight loss method (no matter how good), will only work if you are willing to follow the instructions and make changes to your lifestyle.
Slendertone is no different although the change to your lifestyle is so small that there is no reason you cannot succeed. All it requires is a minimum of 30 minutes a day for you to use the toning belt.
The beauty of this is that the belt can be used while you sit there and relax – in fact most people use it whilst watching TV!
There is one thing to consider though, if you are significantly overweight then Slendertone is unlikely to give you fast results. If you are in this position you would be better off taking a slimming tablet and preferably, following a diet plan to lose some weight before you try Slendertone.
However if you are only slightly overweight, or have already achieved your ideal weight and are just looking to maintain it then Slendertone can work wonders for you.
Click here to find out if Slendertone is right for you
What are the negatives of Slendertone?
There are so many benefits of Slendertone that it can be easy to overlook the negatives. However, I am aiming to give you a complete and honest Slendertone review so it is important I mention the few negatives that there are.
Firstly as mentioned earlier, Slendertone is not a weight loss solution for the obese. It will struggle to work if your BMI is too high. However, if you are only slightly overweight and/or would like to tone up for a more athletic body then it will do the job perfectly.
Another negative is that the method of EMS can be a little uncomfortable at first and it will probably feel a little strange. This though, just needs you to persevere until you get used to it.
The final negative is that it can be a little pricey, particularly for the more premium versions of the device. However, you do get what you pay for and cheaper imitations may not offer the same results or safety as Slendertone.
Slendertone system review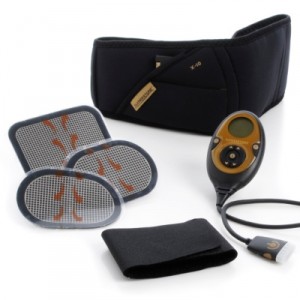 One thing I have not mentioned yet is that Slendertone actually have a new system out that allows you to buy a single controller and then buy the different belts that suit your needs.
Each compatible belt can be used with the controller which makes it cheaper if you have several different areas of your body you would like to target.
For example if you buy the controller plus the abs belt, bottom and thighs shorts, and arms band then you will not only have saved yourself a wad of cash but you can also swap them around for an all over body workout.
The Slenderton System is a great solution if you have multiple problem areas you feel will benefit from using Slendertone on.
Slendertone Review Summary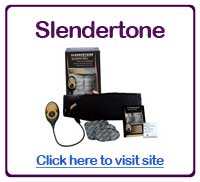 Overall, Slendertone is a fantastically effective weight loss methods for those who just have a few extra pounds to lose and would like to tone up their bodies.
It uses a medically proven technique that has been used for over 40 years in hospitals and clinics.
It throws out the idea of 'no pain, no gain' and gives you a safe and effective way to exercise your muscles while you sit there and relax with no physical effort.
The fact it is so adaptable makes it ideal for you if you have problem areas where you just cannot get rid of the excess pounds using any other methods.
I have made Slendertone my top recommended weight loss gadget for this very reason and it is well worth the price tag even for the more premium models.
Click here to visit the official
website for more information or to buy
Slendertone
Average rating:
0 reviews
Filed under: Weight Loss Gadget Reviews
Like this post? Subscribe to my RSS feed and get loads more!