Re:Active T5 Black Fat Burners Review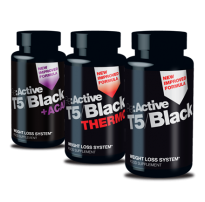 Weight Loss Method = Strong fat burner, metabolism booster, energy booster, appetite suppressant
Dosage = 1-2 capsules per day
Pack Size = 60 Capsules per bottle
Cost = £39.95, Buy 3+ and pay £26.95 each.
Guarantee = 30 Day Money-Back Guarantee on unopened items
Our Rating =

Available From = Desirable Body
If you want to lose weight fast then why not take a good look at the "Re:Active T5 Black Fat Burner". Designed to be one of the most effective time-release controlled fat burning and appetite suppressing pills ever made, it's certainly causing quite a stir among weight loss enthusiasts.
The Re:Active T5 contains a potent fat burner, a metabolic enhancer and an energy booster to help keep you in the right frame of mind at all times.
In addition to the already potent fat burning formula, there is a version that also includes the popular "Capsicum", and another version that includes the much loved "Acai" – for those who prefer those variants (more below).
Re:Active T5 Black Fat Burner is ideal for you if…
You have little spare time to devote to an exercise regime
You have had little success in the past trying to lose weight
You find yourself getting the nibbles in between meal times
You are easily swayed by sweet and tempting things when out
You are ready for a quick and simple way to aid and boost your weight loss
Re:Active T5 Black Fat Burner At A Glance:
Re:Active T5 fat burner is a combination of products that get to work on specific issues around weight loss. When ordinary efforts yield no results it's time to break out the Re:Active T5 and watch your body fat melt away.
It gets to work on all those stubborn areas where fat hates to leave – places like your stomach, thighs, waist and your legs. These are the places where people have the most issues, and thankfully this product has been designed to meet the needs easily and effortlessly.
It gets to work in just 20 minutes. Then it will work hard at suppressing your hunger and begin the process of aiding you with your fat burning efforts. The good thing about Re:Active T5 is that it also helps keep off the weight once you've lost it.
It's unique time-release technology that is built in means that it helps keep your body in fat-burning mode for hours and hours, and there is no following energy crash that comes as a result.
Click here to buy T5 Black Fat Burner
How Does Re:Active T5 Black Fat Burner Work?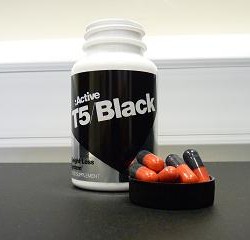 Re:Active T5 Black tablet contains the following ingredients all of which play their own special part in the overall fat-burning process:
Caffeine (250 mg) – has a number of wide spanning health benefits. It helps relieve post-muscle workout pain by up to 48%, keeps you alert when tired and also increases memory.
Tyrosine (150 mg) – helps to increase your metabolism and suppress appetite as well as giving increased mental clarity.
Naringin (50 mg) – commonly found in most citrus fruits, it is long known for giving Grapefruit it's bitter taste. It plays an important part in heart health and lower blood sugars
L-Tryptophan (35 mg) – an essential amino acid and aids with sleeping, and how long it takes to get to sleep
Vitamin B6 (1.4 g) – helps in many ways, including turning Carbohydrates, proteins and fast into energy. It is often taken to alleviate stress, increase energy and manage symptoms of pre-menstrual syndrome..
The capsule contains: Hydroxypropyl Methyl Cellulose (HPMC) – a known food additive to thicken food substances
When these potent ingredients are all combined in the right percentages, you get a product that provides a slow, controlled release of "energy", "metabolism enhancing" and "fat burning" for hours after it has been taken.
The only thing you need to think about when taking these pills is when you take them. If taken too late in the day, some people have mentioned that it can make it difficult for the to get to sleep that night. This because of it's timed release technology, therefore as long as you follow the instructions you will be fine.
How To Take Re:Active T5 Black
With this product, simply follow the correct instructions that come with your supply.
You start out by taking just one capsule first thing in the morning with a large glass of water (ideally this needs to be at least 30 minutes before you eat any form of breakfast).
Secondly, your next capsule should be taken, again, at least 30 minutes before your lunch.
Then, that is it!
If you take them later in the afternoon, the effects may well still be felt later on as you reach bed time due to it's time time-release technology built in.
If you participate in any form of exercise then there are some additional things to consider.
Re:Active T5 aids with energy, letting your performance increase, letting you train for longer etc. so on a training day, if you normally train before lunch take your Re:Active T5 as normal. If you normally train after lunch then take your second serving 30 minutes before your workout and your endurance levels will increase.
How is Re:Active T5 Black Fat Burner different to other diet pills?
The Re:Active T5 Black fat burner capsule contains real tangible and proven ingredients. There is nothing mysterious or "new age" about it.
Once you've assessed your tolerance to it by trying it for a few days you simply include it as part of your daily life.
It enhances your metabolism as well as suppressing your appetite and burning away the excess fat on those hard to lose areas.
Re:Active T5 Black Fat Burner Review Summary
This fat busting diet capsule also comes in 2 other versions, as well as offering a discount for bulk buys.
First of all there is Re:Active T5 Black + Acai that comes with the added benefit's of the so-called "super berry" known as the "Acai berry". These berries have some of the highest nutritional values in the world, hence why they get their name. Acai berries are jam packed with very high levels of antioxidant pigments known as anthocyanins. These antioxidants are compounds which help to neutralise free radicals.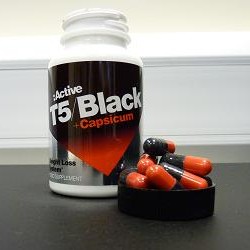 The second version is Re:Active T5 Black Thermo that comes with Capsicum. Possibly the most powerful fat burning capsule ever made, it makes use of the natural thermogenic effects of Capsicum's excellent fat burning properties to give a real boost to your weight loss efforts. It heats up the body and speeds up the metabolism.
There is also an option where all three can bes tested, saving a handsome sum of money. This is known as the "Re:Active Super Black 3 bundle".
All three of the above specially formulated diet pills will do a great job at helping you to burn off the fat. They are sold online by the trusted retailer Desirable Body.
The company is entirely UK based and offers a full support ticket system, and even a 30 day money back guarantee on any unopened products.
They also use the Comodo secured payment checkout page that gives you $250,000 identity protection. They have strong interactive Facebook and Twitter pages and regularly offer deals and coupon incentives.
All their products come shipped in discreet packaging and are manufactured entirely in the UK and are researched by a leading food standards institute..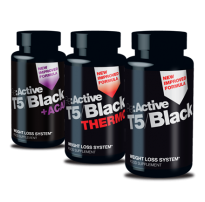 If you only buy one of the three individual packs then the price works out at around 66p per capsule. If you choose to buy in bulk by trying all three together then the savings become obvious. You are then getting the capsules at just 44p per capsule.
When you weigh up the cost of gym membership, travel times, fuel costs, clothing to wear and laundry of clothing, the cost to try these pills is very favourable. Gym memberships cost anywhere from £15 to £60 per month (plus the travel, fuel and laundry) whereas these pills take seconds to swallow, and cost as little as £26 per month, all in!
Try the pills today. The best value option is by far the "Re:Active Super Black 3 bundle". With the bundle you will not be disappointed and the weight will start to burn away. Your appetite will become suppressed and your metabolism will become enhanced. All of this from a trusted UK only manufacturer. Order special bundle of strongest fat burners today.
Filed under: Slimming Tablet Reviews
Like this post? Subscribe to my RSS feed and get loads more!